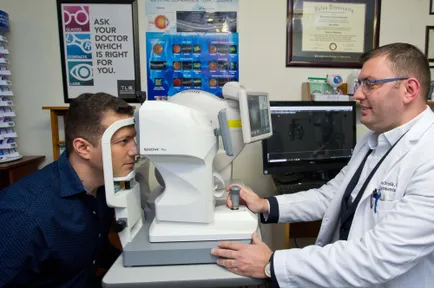 Contact Lens Exam from Optometrist in Medford, MA
When it comes to contact lenses, no two kinds are ever the same. It's important for people to help themselves get the best fitted contact lenses by getting a comprehensive contact lens exam first. With the help of a contact lens exam, our optometrist can find out whether or not contact lenses are right for you, if you need specialty contact lenses, and determine if there are other eye diseases that might affect your vision.
At Drizik Eye Care in Medford, MA, we make it our mission to help young adults, teens, children, and older adults get the help they need to improve their vision using contact exams, eye exam care, and more!
Can Contact Lenses Help Me?
Contact lenses are appropriate for people that have refractive errors and don't have any other pre-existing eye diseases. Certain eye diseases can prevent contact lenses from fully improving your vision, such as a condition known as keratoconus, diabetic retinopathy, glaucoma, and cataracts. By getting a contact lens exam first, our optometrist can determine if you need specialty contact lenses or if regular contact lenses will be a great fit for you.
In general, contact lenses are designed to help people that have refractive vision errors, meaning the shape of their lens or cornea is different than others. Adults and teens are also better suited for contact lenses, since children might not be able to keep their contact lenses clean, leaving them prone to eye infections.
How Does an Optometrist Conduct a Contact Lens Exam?
Our optometrist will take a deeper look at your eyes during an eye exam using imaging techniques, vision exams, and by shining a light into your eye. We will determine from a contact exam what types of contact lenses can suit your eyes, if you need specialty contact lenses such as scleral lenses or hybrid lenses, or inform you of other options.
For instance, our optometrist might recommend eye glasses or even surgery to correct your vision. Everyone is different, so it's important to get an eye exam done to determine your specific vision needs.
Schedule Your Eye Exam Today at Drizik Eye Care
At Drizik Eye Care in Medford, MA, we want our patients to feel at ease knowing they're getting the best eye care possible and are being paired with the right contact lenses for their eyes! Call us today to schedule an appointment.